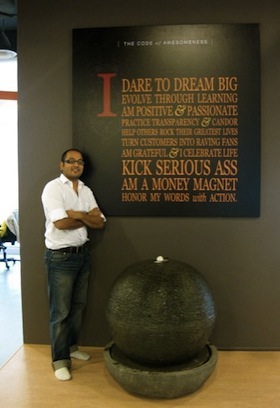 Ajit Nawalkha
Senior Partner at Mindvalley, Co-Founder of Mindvalley Printing, Mindvalley India & Mindvalley Italy
Ajit's background is in business strategy, marketing and outsourcing. Ajit became an entrepreneur-in-residence at Mindvalley in 2010 when he set up Mindvalley's printing division in India. Mindvalley Printing went on to become profitable in its first year. Now he spearheads 6 different Mindvalley ventures, including Mindvalley's Publishing arm in India which brings American authors to the country of 1.2 billion people.
Ajit is know as the "The Doubler". He has a knack for doubling the results of every venture he touches. As a Brand Manager for the "Silva Method" in 2009 he doubled sales in 18 months. In India, working as a consultant for one of the countries largest newspapers, he doubled sales results of their multi-media department in 12 months. As a Vice-President for the non-for-profit organization, AIESEC in India, he doubled sales during his tenure.
Ajit's magic touch extends beyond just the field of business. He's a Reiki master too. In his spare time, he's an avid reader who consumes every book on business, marketing, personal growth and strategy that he can get his hands on.